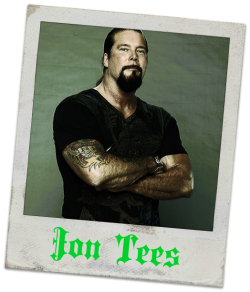 Handler Info
First Name: Jon
Email: Jon@JonTees.net
E-Fed Experience: 15 Years
Messengers: Mr Jon Tees (Aim) Jon_Tees (Yim) Jon_Tees@hotmail.com (MSN)
How did you hear about EW: Own It
Character Info
Name: Jon Tees
Physical Description: Kevin Nash
Outfit: Expensive often times custom made suits or stylish casual clothing. Always dresses the part of the alpha male that he is. To give you an example he'll always try to look slightly nicer than the most well dressed guy in the room.
Entrance Music: "Die Mother Fucker Die" by Dope
Where Did They Become A Legend: FWF, Smack: CCW, BWA, AWO,  EWA/Anarchy Wrestling, SWE, SWO, SCWF, and several other places as well.
Brief Bio: Jon Tees has been involved in the wrestling industry for the better part of the last 15 years. During that time he has functioned as a wrestler-manager-booker-commentator-journalist and promoter. His reputation proceeds him and he is truly a man who needs no introduction. He has recently formed Elite Wrestling out of a purchased and relocated territory after becoming nostalgic about a past wrestling promotion he was apart of as he was contemplating retirement. He has big plans in the works for the upstart promotion, but only time will tell.
Tees although semi retired still appears on cards infrequently as a talent and more frequently as the manager of "special attractions" that he brings in. He is rumored to have to report to some form of board of directors in spite of  being the principal owner and founder, but no one really knows any of these people who supposedly comprise  this board or even if they actually exist. Tees' acknowledgement as the proprietor of this place is inconsistent as sometimes he is acknowledged as such and other times not so much.