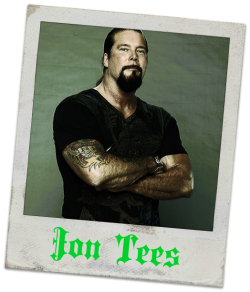 Handler Info
First Name: Jon
Email: Jon@JonTees.net
E-Fed Experience: 14 Years
Messengers: Mr Jon Tees (Aim) Jon_Tees (Yim) Jon_Tees@hotmail.com (MSN)
How did you hear about JTPW: Own It
Character Info
Name: Jon Tees
Physical Description: Kevin Nash
Outfit: Expensive often times custom made suits or stylish casual clothing. Always dresses the part of the alpha male that he is. To give you an example he'll always try to look slightly nicer than the most well dressed guy in the room.
Entrance Music: "Die Mother Fucker Die" by Dope
Brief Bio: Jon Tees has been involved in the wrestling industry for the better part of the last 14 years. During that time he has functioned as a wrestler-manager-booker-commentator-journalist and promoter. His reputation proceeds him and he is truly a man who needs no introduction. He has recently formed JTPW out of a purchased and relocated territory  and has some big plans in the works for the upstart promotion.
Tees refuses to explain how exactly he managed to bring back several legendary wrestlers and personalities including some who were deceased  and in their primes none the less. When asked this question he always answers by saying "That's my little secrete" or "for me to know and you to find out."